Advertising displays for shop shelves in the UK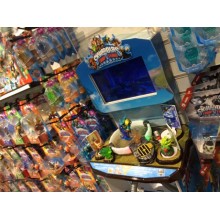 Supermarkets are always popular. Most unplanned purchases are made before Christmas and the New Year to make a gift to family and friends. The store shelf promotion decides what goods will get snapped to the last, and what goods will be left to gather dust until next year. At this time it's enough to attract the buyer's attention and he will buy your product without comparing to competitors.
A supermarket chain from Great Britain asked Dekart Digital to make advertising displays for shelves with goods in the amount of 450 pieces. After receiving the samples, the company decided that budget 7 inch advertising player ADBOX-070 with a bright screen and built-in speakers is good enough.
This model presents all the features:
Economical and bright LED screen ( 800x400 points )
Built-in advertising media player with playlist support
Standard VESA-mount
External power adapter makes LCD advertising player slim and compact
Speaker with loud clear sound
The possibility of the front panel branding
The ability to install the battery on 12-18 hours of video
Please check our models of advertising display for store shelves in our directory of Digital signage displays - 7 to 17 inch models are usually popular for shops.
Related Tags