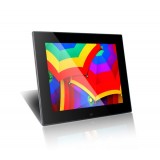 DISHINE Digital advertising displays by Dekart is affordable alternative to professional advertising monitors. LCD screen DISHINE automatically launches an advertising or informational slide show continuous screening of videos and advertising images. Monitor attracts the attention of customers with vibrant video and sound. It allows marketers to quickly and easily update promotional materials, start bright dynamic videos without printing and proofs. This is a tangible benefit for retail sales, restaurants, office buildings, and service businesses! Buyers with a high probability will pay attention to Digital Signage screen advertising of your offer, if it is an active movement with sound.
In what cases is it advantageous to buy advertising DISHINE instead of advertising monitors!? It's very simple: if you have a short-term project, and the screen must not work more than two years, it is profitable to buy DEKART DISHINE. To expect that it will last more than 1-2 years is not worth it. If you have a long-term project, choose a professional advertising monitor, it will work 8-10 years. Unlike professional advertising monitor, this display is made in a plastic housing and equipped with screen protection from scratches or damage.
This is interesting: Photos and videos of installed frames DISHINE
Glossy advertising displays DISHINE
Photos of promotional picture frames series DISHINE
The use of digital signage screens advertising
The secret of the attractiveness of Digital Signage screens is that the LCD screen is constantly updating images or video, looks much more attractive than ordinary photographs, whether at home or at work. Digital advertising panel, unlike many other advertising devices that automatically launches an advertising or informational slide show with continuous display of drawings and JPEG images. In addition, many of these electronic displays can display the video recorded on the flash card or internal memory. Some monitors can be configured on the advertising of certain products and services at a specific time. In this mini-Digital Signage system contains a great number of options for the slide transition time of each slide, displaying the company logo, and as a result forms the image of the company and the product advertised.
What characteristics distinguish Digitla Signage screens Dekart?
LCD screen with led backlighting and juicy picture
Plays video and pictures from USB storage media and SD memory cards
Digital signage screen can have internal memory, so you can not be afraid for theft of USB storage media and SD memory cards
Installed vertically as well as horizontally (stand included suitable only for horizontal placement)
Digital signage screen has built-in stereo speaker system to enhance the advertising effect
Mounting holes for VESA standard: 75x75
Resolution large signage screens to 720p HDTV
Our catalog presents only screens with excellent characteristics of liquid crystal panels. Thanks to the led backlight the picture on the screen visible visible in any room with a bright light, and twilight. Most models are available with a screen diagonal from 7 to 24 inches! In addition, advertising moniotr with a glossy edge are offered as modern alternatives to conventional screens with a matte black or white frame. We don't want to limit designers in selecting the framing screen, so produced the ad monitors with an updated (modernized) design and a traditional edge. This expands the ability to install displays with LCD screens as decorative purposes, and for the purpose of advertising goods and services.
Why you should buy a digital signage screen for advertising the product?
Our factory offers several options of LCD screens for all kinds of business, including banks, retail stores, restaurants, and medical facilities
Digital signage screens, and other Digital Signage solutions company Dekart is checked on the test bench
LCD signage screens are available in the presence and under the order with short production time. This allows you to quickly send the product to the customer.
Equipment safely and have the necessary certificates CE, RoHS.