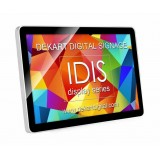 Modern Dekart Digital advertising displays is a multimedia screens with integrated advertising player and function of automatic switching and displaying promotional videos. They work automatically and do not require routine maintenance by employees. Advertising machine show videos, photo and graphics files, and play music files of all modern formats. Some models support Full HD and 4K digital signage content. The scope of these displays ranging from storefronts, business centres receptions and elevators to buses and taxi.
Digital Signage Ad displays are used as information and marketing systems for commercial buildings or office. Dekart Digital Commercial displays with narrow bezel and LED backlight technology have modern look and show vivid picture. They provide an impressive flow of information messages and advertising for offices, retail, hotels, buses and trams, and other facilities. Built-in media player supports playback of videos, photos and music from USB devices, plus planning of content playback. If the advertising monitor have optionally installed "network advertising player", it becomes possible to update information on the digital signage screen via LAN, Internet, or 3G/4G from your office or from your tablet anywhere in the world.
This is interesting: Real photo and video Dekart digital signage displays, Functions and features of Dekart displays, More information on digital signage displays
Digital Signage Displays
Real customers photo of Dekart digital signage displays
Our displays are used worldwide. The geography of our sales spread over Asia, Europe, America, Oceania. We want to share the photos sent to us by Dekart Digital clients:
DISHINE Glossy advertising displays
View DISHINE Glossy advertising displays »
DILUX Tablet style signage displays
View DILUX Tablet style signage displays »
DIPANEL Strong digital displays
View DIPANEL Strong digital displays »
Features of Dekart digital signage displays
Advertising Digital Signage displays are used as information and marketing system for commercial buildings or office. Vandal-proof frames of commercial LED displays look modern, and screens show a vivid picture. They provide an impressive advertising image and information messages for office, retail, hotels, buses and trams, and other facilities.
The main functions of commercial display are
Auto play video at power-up, nothing needs to be enabled manually
Support Full HD video, image files, MP3, lossless audio
Automatic playlist repeat, around the clock, all year round
Automatic restart in case of power failure
Automatic switching on and off on a schedule
Continued from where it stopped when turned off
The timer playlist - different playlists in different time periods
Timer volume different volume in different time periods
Automatic tie-in commercials in a long video
Splitscreen into zones for simultaneous display of multiple mediaflow
Show date and time in the corner of the screen
The output of the channel logo on top of videos
Running line with the color setting and size of the letters and the substrate
Update information on the SD flash card with USB flash
Statistics and log file
Popular option: Remote control via WIFI, 3G, 4G Internet. You can update playlists, media files, schedule.
Key features
Durable metal housing design
Standard VESA mounting - easy to hang on the wall, on the ceiling, put on the desk and on the shelf of the store
Used as a TV or display for bus, taxi, subway cars, and trains
A number of models equipped with transparent protection screen made of tempered glass or acrylic glass
Flash card and USB flash is lockable to protect against theft
Multilingual settings menu
Built-in speakers 2x2W or 2x4W
Playlist management software is available
Available options for Dekart displays
Option: Remote control via LAN/Internet - remote updating of media files and playlists
Option: Built-in Android PC
Option: Built-in Windows PC
Option: Touch screen (touchscreen)
Option: motion sensor
Option: Equipment for hot and cold conditions
Option: Ultrabright sunlight readable screen for visibility in sunlight
Option: I/O Interface RS232
Option: Built-in memory
Option: Internet WiFi / 3G / 4G
Interfaces
SD flash card
CF flash card
USB flash
Option: AV input(CVBS)
Option: HDMI video + audio
Option: DisplayPort
Option: VGA / RGB video
Option: Audio input or output
Option: Antenna (coaxial cable)
Option: Internet – Wire RJ45
Option: Internet WiFi
Option: Internet 3G / 4G
Please discuss all the options and functions of your equipment with our managers before ordering!
What is digital signage LCD player in fact
Of course, Indoor TV advertising started in commercial buildings and transport almost immediately after appearing of the advertising TV market. But until now all these displays had to turn on and off every night and with the remote control. These attempts were not very successful, because managers often forgot to turn TV on in the morning, or after failure in the power supply. Some time later professional advertising LCD displays entered market with built-in advertising LCD player that turn display on and off and start playing video automatically by schedule, or at power up. Digital signage systems became stabile, and it has become easy change information - they only need to change flash card or USB flash drive with video and a playlist.
Digital signage monitor for advertising in buses, taxi and metro
At the same time, digital signage displays and displays for transport began to gain popularity. They are often called bus tv or taxi advertising screen. It is popular as digital signage machine for buses, monitors for trams and trolleybuses, as well as digital signage screen for metro, and trains. Monitors for buses began to be used for advertising, entertainment and show videos and movies during the trip. It has enhanced screen protection and vibration-ready components.
Several years latter new technology appeared that associate advertising displays in network. Digital displays grew in size and became more "green", bright and efficient with LED LCD technology appeared. Digital signage monitors became more subtle and suitable for popular places in the lobbies of hotels and restaurants, near lift cabins, on the shelves of shops and as advertising screen in supermarkets.
Vandal resistant commercial display
There is no doubt that advertising (commercial) display must be protected from bumps and theft, since there is always possibility that someone will try to break or steal the device. Therefore, modern advertising monitors are assembled in a metal protective cases and screen is closed with vandal resistant toughened glass or poly-carbonate. Protected case is also useful even in places where the advertising display is under supervision. After all, there is always the possibility that somebody will touch or hit advertising machine screen accidentally. Of course, the use of metal and durable quality of the glass increase the cost of equipment. Experts estimate additional security measures, on average, 25% of the cost of the display, but it is significantly more permanent replacement and repair of damaged lcd advertising player.
The evolution of Digital Signage screens
Vertical Digital Signage advertising displays become more and more popular nowadays. They are often used as advertising monitors in elevators and screens behind the glass windows. These screens work in a comfortable environment - they rarely find themselves in the cold, and almost misses the dust. Monitors for shop windows are special high-brightness displays, which can be seen in direct sunlight. Electronic posters are particularly attractive for cafes and banks. Promotional LCD displays in the windows replace outdated banners on paper or in part, and luring passers-motion video.
The decisive advantage of the benefit of setting of the Digital Signage advertising Display is the simplicity of the procedure and operation: no approvals and documents required from the city administration, no need to print new advertising signs each month, you can update information in several minutes. That is why the monitors for advertising appear everywhere every day! Call us now to find your model at best price! Buy LCD Advertising Display today!