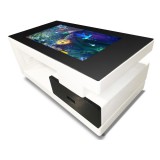 Interactive Kiosk and Digital Poster is a standalone digital terminal or outdoor LCD screen. These interactive systems are often used as an electronic catalog, reference system, electronic line, interactive payment terminal, or promotional stands. Information kiosks are also installed for self-check-in at the airport, in retail stores for product selection, as well as payment terminals. Interactive kiosk typically have a touch screen for data input, on-screen keyboard and peripherals, among which credit card machines, bill acceptors, barcode scanners, receipt printers. Interactive kiosk and Digital Poster is a vertical digital totem with one or two screens designed to show video and static ads in automatic mode.
Touch screen Kiosks and digital posters belong to the class of interactive kiosks and self-service terminals, which are often installed in retail premises. Interactive computer kiosks can have several purposes simultaneously, for example to be the display with touch screen for searching products in the catalogue, and to perform the functions of advertising monitor when kiosk or digital poster is idle for a long time. Digital posters and information kiosks are gaining popularity in a growing number of industries, including retail, automotive trade, education and banking.
This is interesting: Real photos and videos digital posters and kiosks, Functions and features of video totems and interactive kiosks, General information on digital signage kiosks and totems
Dekart Digital video poster and kiosk real photos
The geography of our posters and kiosks installations spread over Asia, Europeu, America, Oceania covered by our. We want to share these Dekart Digital photos sent by our clients:
View INKO Information Kiosk »
View Interactive tables »



View DIPO Digital poster »
Functions and features of video posters and information kiosks.
The main functions of the information kiosks
Auto show video or menu at power-up, nothing needs to be enabled manually; Support Full HD video for Android, Windows, Linux; Playlist repeat with flash cards; Automatic on/off by schedule; Continued from where it stopped when turned off; Multi-zone screen - display multiple video and banners; Display date and time in the corner of the screen; Show the logo on top of video; Scrolling text with the color and size settings; Hot update information on the SD flash card c USB flash; Log file with statistics;
The main features of videotec and kiosks
Durable metal casing; Indoor and outdoor versions are available by request; Screen protection with tempered glass; USB and other connectors have lock for theft protection; multi-language menu settings; Built-in speakers 2x2W, or 2x4W; Software for creating and managing playlists is available
Paid options
Options at extra cost: Remote management via LAN/Internet - worldwide update of media files and playlists; Built-in Android PC; Built-in Windows PC; Touchscreen); a motion Sensor; Equipment for hot and cold conditions; Ultrabright sunlight-readable screen; I/O Interface RS232; Built-in memory; Internet – Wi-Fi / 3G / 4G
Interfaces of interactive systems
SD flash card; CF flash card; USB flash; AV input(CVBS); HDMI video + audio; DisplayPort; VGA / RGB video; Audio input or output; Antenna (coaxial cable); Internet RJ45 / WiFi /3G / 4G
Please discuss all the options and functions of your equipment with our managers while ordering Interactive kiosk or Digital poster.
Important features of interactive touchscreen terminals
It is important to note that in addition to reliable electronics, interactive kiosks require robust and secure software to provide a convenient user interface and prevent unauthorized access to data. A number of manufacturers offers many solutions but the quality and features may differ considerably. In evaluating the manufacturer of Interactive kiosk, don't forget to ask about the process of quality assurance, warranty and features of operation in the conditions of high dust and humidity. You can also determine the reliability of the kiosk on level of service and support for your supplier.
Interactive kiosks and information kiosks terminals.
Dekart Digital offers a well-known and tested solution for your needs. A series of interactive information kiosks with advertising player and Android players for various tasks is presented in our catalogue. We will work closely with your Manager to find LCD interactive kiosk or poster or fit up for your needs and within your budget. Our staff boasts the ability to create custom software and design to suit the needs of the client. Contact us today to get started!