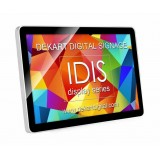 DILUX series digital signage display is a vertical big size advertising monitor for advertising, electronic menus, and schedules. Digital advertising and information systems constantly replace traditional print media - billboards, posters and lightboxes. It is profitable and convenient to upgrade information on the DILUX digital signage display with of USB flash in digital media player or using PC via the Internet in a few minutes.It takes a few minutes to update information 100, 500 and even 5000 digital LCD screens with Internet .
Installing DILUX digital display is very simple – just clip it on a floor stand, or hang on the wall (depending on model), and plug it in. Display advertising is ready to go! DILUX is ideal for installation in supermarkets, department stores, exhibition halls and shopping malls, as well as banks, gyms, train/bus stations and stops, real estate agencies, hospitals, museums, exhibition halls, cinemas, conference halls, hotel lobbies and waiting rooms.
This is interesting: Pictures and video of DILUX displays, Functions and features of DILUX promotional displays
DILUX Tablet style digital signage displays
Photos of LCD displays DILUX
Digital displays advertising
DILUX Digital Signage display includes a professional commercial LCD screen with LED backlight technology, and modern "Plug & Play" FullHD media player with USB port. This means that advertising display does not require any additional devices such as a computer or DVD player. Open the lock, connect a USB flash with videos and pictures, and connect the monitor power plug. Display will start to show promotional videos and slide shows automatically. Network version with remote control via LAN or Internet is also available. Integrated solid state media player works without moving parts, so it is not clogged with dust and does not break. The player supports almost all multimedia file formats and outputs image in Full HD quality. Digital LCD display operates autonomously, but can also be combined with a variety of digital signage systems in complex combinations, such as a synchronous operation across the network, with camera, etc. Information, images, video, or multimedia applications may be interleaved in accordance with the schedule. See our blog for application eaxmples.